Monogrammed Baby Outfit with Cricut Iron-On
This post and the photos within it may contain affiliate links. As an Amazon associate I earn from qualifying purchases. If you make a purchase through one or more of the links, I may receive a small commission at no extra cost to you.
Make your own Monogrammed Baby clothes with this simple tutorial using your Cricut machine and Cricut Iron On vinyl! I made an easy monogrammed baby outfit, but this tutorial will also work for monogrammed and personalized baby blankets and other personalized baby gifts!
This post and the photos within it may contain affiliate links. If you make a purchase through one or more of the links, I may receive a small commission at no extra cost to you.
There are few things that I love more than monograms, especially monograms on little kid clothing. But having 4 kids, I know how expensive buying pre-monogrammed clothes can be. For special occasions I love getting dresses or shirts monogrammed for them, but I'm always looking for cute ways to bring monograms into their everyday clothes. That's one of the many reasons that I love my Cricut machine and Cricut Iron-on! I am able to design custom monogrammed baby and kids clothes for a fraction of the cost. I'm making this Monogrammed Baby Boy outfit for my son, but this monogrammed onesie would also be perfect for a monogrammed baby gift.
I've teamed up with a bunch of my blogger friends to share inspiration for DIY Projects using Cricut Iron On. Scroll down to see all of their projects!
New to Cricut?! We've got a tutorial for you below!
My youngest is 8 months old, and he has reached the point of crawling all over the place and really enjoying all of the attention being the youngest child brings. As the youngest, I definitely finding myself spoiling him a little, since I'm pretty sure this is our last little one in the house. That translates into a lot of cute clothes! I recently discovered that we have a Janie and Jack outlet about an hour away from my house, and I found this adorable little light blue linen one piece outfit. It's just perfect for summer! But it was kind of plain, so I decided when I bought it that I was going to put a small monogram on the pocket. Monogrammed baby boy clothes are seriously the best!
How to Make a Monogrammed Baby Outfit
Materials Needed to make DIY Monogrammed Baby Gift:
–Cricut Machine
–Cricut Iron-On (this project is a great way to use up a scrap piece because the image is so small)
–Cricut EasyPress 2 (or regular iron, but this outfit is a great reason to own the smaller sized EasyPress 2!)
-Baby Outfit (find a similar one HERE)
Tutorial for Monogrammed Baby Outfit:
First, you need to design your monogram in Cricut Design Space. I own several monogram fonts that make creating a monogram for personal use really easy. You can find them by googling "circle monogram font," or there's a great option for hand lettered monograms on Font Bundles.
I chose a single letter monogram design since the pocket area isn't very big. Once you decide on your design, make sure that you size the image to where you're placing the monogram on your piece of clothing. You can see in the picture below that I only needed my design to be about 1.5″ square.
When you're ready to cut, click the "Make It" button.
When you're preparing your mat for cutting, the most important things to remember when using Iron-On is to: 1. Click the "mirror" function on so your design can be flipped over to iron on to the fabric, and 2. Place the iron-on material SHINY SIDE DOWN on the mat.
If you've double checked that you have turned mirror on, click the green "Continue" button.
Set the cut settings to "Iron-On" (turn the dial for a Cricut Explore series machine, or for the Cricut Maker select Iron-On in the selection boxes or by choosing "view all materials."
Once your design is finished cutting, weed away the material you don't need from the shiny backing sheet and position your design on the clothing:
For this project we used the Cricut EasyPress with the Cricut EasyPress Mat, which is so easy to use and gives the results of a much larger and cumbersome heat press!
To check Cricut EasyPress settings for the Iron-On and Clothing Material you've chosen, check out the EasyPress Recommended Settings.
In just a few seconds, you have a custom monogrammed baby outfit! Anyone would be so excited to receive this as a baby gift because it's personalized! This same technique could be used on many different materials to monogrammed baby blankets, monogrammed onesies, and other monogrammed baby items.
Interested in some more Cricut Iron-On projects? We've made lots of easy DIY Projects using Iron On Vinyl! Here are a few to get you started:
Make sure you check out my FREE DOWNLOADS page for Free SVGs!
I have a bunch of blogger friends that are also making DIY Projects with Cricut Iron-On this week! Follow the links below for more DIY Iron On Vinyl Inspiration.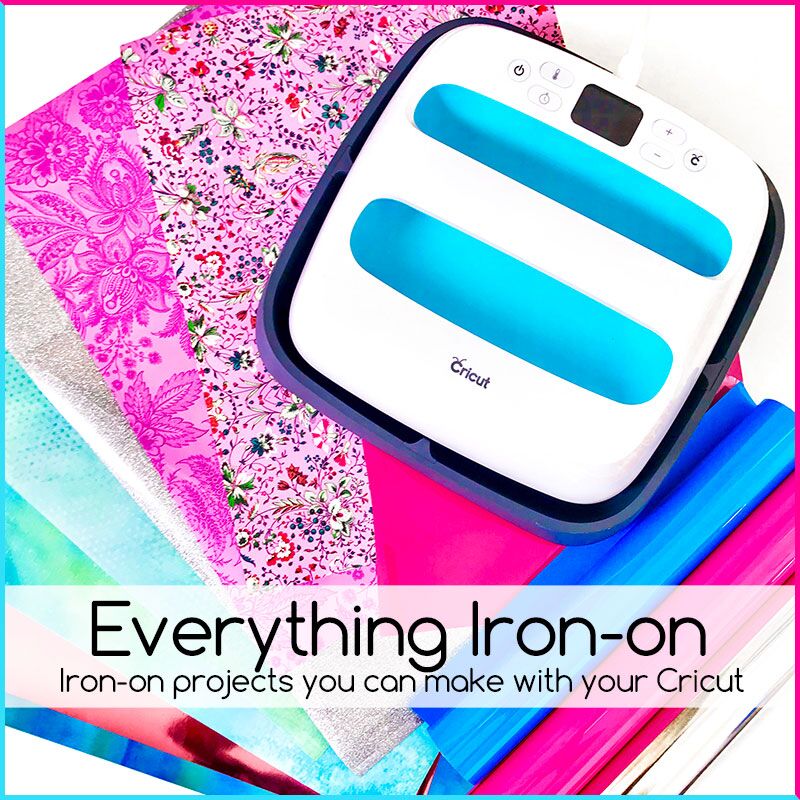 LATEST POSTS:
SaveSave
SaveSave
SaveSave
SaveSave